Dr. D. N. Mishra, Founder Chairman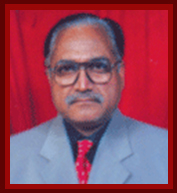 Dear All,
"Success is a journey, not a destination!"
Education is the most important element for growth and prosperity of a nation. The time in which we live today stands on two key pillars, globalization and growth. Both of these pillars are founded on a base structure of intense competition. As a result, young generation of today faces serious challenges in terms of securing future and ensuring success in the lives. It has become imperative for them to excell in respective fields. Earlier they wanted to be the best but today they need to be still better!
This is where an exemplary educational institution can make a difference. It equips students in such a manner that they know how to find success and what to do to achieve it. The mission of Smt. Vidyawati Group of Institutions (S.V.G.I) is to provide excellent education in a stimulating environment where delivery of superb pharmaceuticals, patient and technical care education is integrated with nationally and internationally recognized research.
As has been said by Aristotle, "Excellence is an art won by training and habituation. In order to achieve excellence, we apply innovative and proven educational methods to produce technocrats who possess skills and knowledge to face the new world.
Working and learning at the cutting edge of healthcare research is an unique benefit at the SVGI. The institute in all aspects of its operations and functions is dedicated to "Impart Quality Education & 'Higher Education to All'. I welcome you to explore the world of Smt. Vidyawati Group of Institutions because here you find not just a career but also the key to a bright destiny. Here you can learn to handle all the smallest difficulties that may cross your path. Pass all the pebbles in your path and you will find you have crossed the mountain.
DR. D N Mishra
MBBS (Gold Medalist), MD (Medicine)
MAMS, FCCP, FIMSA, FIACM, FICP